Commercial Office Building Security



Burglary, arson, vandalism - all are legitimate concerns of any commercial office building owner. Even the most vigilant property managers can be susceptible to such issues if the proper steps are not taken. Don't risk facing the hassle and decreased property value that come as a result of these acts - let our commercial security service ensure your real estate is protected.
United Global Security ( U.G.S.), Inc. provides professionally trained, uniformed security guards that help deter against all kinds of criminal acts. Our commercial property services exceed all standard industry regulations and our custom plans leave no stone unturned when it comes to protecting your interests. When building our security plan, we take into account a wide number of statistics and factors to ensure our service is foolproof. And while you might expect all of this effort to come at a premium, our rates are competitive and come with a variety of payment options to eliminate any of your financial concerns.
Strength

,

Reliance

and

Integrity

You can Trust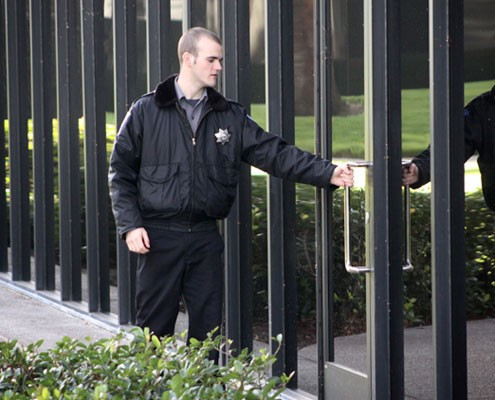 Access Control:
Control access of residents, visitors, vendors, and maintenance personnel
Patrol Services:
Conduct foot, vehicle and golf cart patrol
CCTV Monitoring:
Monitor CCTV, report and respond to any unusual activities
Emergency Response:
Respond to any natural or man made emergencies
Patrol Surveillance:
Prevent theft, vandalism and burglaries
Inspecting Property
Interior and Exterior of property will be checked on a regular basis for maintenance and unusual activities.
Well equipped
Guards are equipped with necessary equipment so they can take the most appropriate action
Local Law
Liaison with local law enforcement agencies
Team Work:
Constant Communications, Tasks and Training. Along with the support of U.G.S. back office
gets the job done at highest level at all times.
Daily Report:
A daily activity report will be prepared as a summary of the important activities
United Global Security ( U.G.S.) offers top rated Security Guard and Patrol Services in Florida. When you need armed or unarmed security for yourself, your property, or your business, you want a company that has what it takes to keep you and the things that matter most to you safe and protected. At United Global Security ( U.G.S.), we promise to share our strength, provide you with reliable private security services, and show you we have integrity in everything we do. We can meet all your security guard and patrol service needs in Florida. That's why were among the top rated security companies in Florida.
TRUSTED SECURITY GUARD COMPANY
United Global Security ( U.G.S.) our entire team attentively protects and serves our employees and their assets. Our absolute highest priority is the safety and satisfaction of our clients. We do a detailed assessment of our client's unique security needs and match skilled and talented officers to accommodate our client's individual needs. Our experienced management and every single security officer goes to great means to ensure the safety and satisfaction of our clients. Your safety and satisfaction is our business!
Free Consultation

Proposal with Competitive Quote

On-Site Follow-Up Meeting

Contract Finalized and Signed

Customized Security Plan

Security Guards Selected & Trained

Implementation

Regular Updates

Total Quality Control

Billing