PERSONAL PROTECTION
OUR STAFF HAS BEEN TRAINED TO IDENTIFY AND AVOID POSSIBLE THREATS; OUR MAIN CONCERN IS KEEPING THE CLIENT SAVE AT ALL COSTS.
OUR TRAINING INCLUDES THE LATEST IN COUNTER SURVEILLANCE AND INTELLIGENCE TACTICS.
WE USE VARIOUS WEAPONS, LETHAL AND LESS THAN LETHAL, DEPENDING ON THE THREAT ANALYSIS.
WE WILL MEET WITH EACH CLIENT TO DEVELOP A PERSONAL PROTECTION PLAN TO ENSURE THE NEEDS OF THE CLIENT ARE NOT ONLY MET, BUT FAR EXCEEDED.
Don't wait until it's too late - put United Global Security ( U.G.S.) program in place now and never worry about the safety of your business, goods, or transportation routes again. Submit a request for a quote today, and let United Global Security ( U.G.S.) provide you with armed or unarmed security and peace of mind.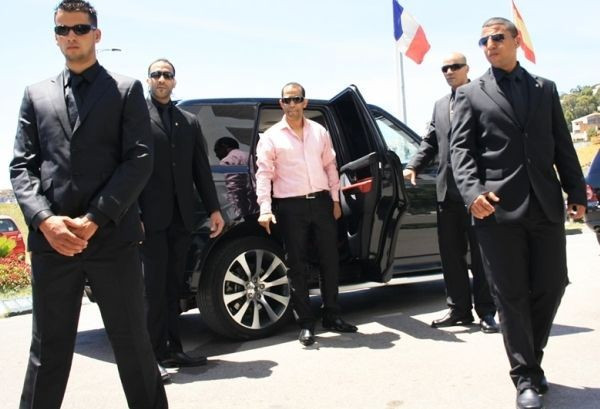 EXECUTIVE PRIVATE PROTECTION
United Global Security ( U.G.S.). is a Florida based executive and corporate protection Services Company.U.G.S. founders and management team are senior-level professionals who have spent years in Police, law enforcement, the U.S. Marines, U.S, Army and corporate security.
United Global Security ( U.G.S.) provides plain clothes armed executive protection agents as well as armed escort service and commercial security details. To provide the highest level of service for our clients, Seven's employees undergo an extensive background check incorporated with a rigorous training program that exceeds the requirements mandated by Florida state law.
We also offer bilingual personnel. United Global Security ( U.G.S.) proactive approach to security enables us to foresee and avoid negative situations to our principals or clients. United Global Security ( U.G.S.) believes communication is the key to continued excellent service. United Global Security ( U.G.S.) understands the importance of consistently improving and looking for better ways to conduct its daily duties.
United Global Security ( U.G.S.) works with our customers to create a customized security program which is reviewed and approved by our clients prior to implementation. A weekly review of the security program is conducted to identify and continually meet our client's expectations and requirements.
Finally, each Security Detail is evaluated quarterly based on the following review process:
• Identifying Client Expectations
• Translating Client Expectations into Detail Orders
• Establishing Performance Standards
• Feedback to the Client United Global Security ( U.G.S.) goal is to develop a strategic partnership with each client. We are highly committed to each client's security needs.
OUR MISSIONUnited Global Security ( U.G.S.) ultimate mission is to meet all clients' demands and needs by tailoring our services to each individual client needs and to employ the most ethical and responsible Protection Agents in the industry.
We believe the following principles will lead to our continuous success: Quality Service Provide the highest possible quality service at a reasonable cost to our clients. Ethics Adhere to all industry guidelines and regulations. Respect our clients' personal property and privacy foremost without compromising safety and always keeping the best interest of the client in mind.
United Global Security ( U.G.S.) Most Important Asset: We believe our employees are our most important assets. Caring for their needs translates to superior client service. Therefore, content Employees' provide benefits to our clients and our company.